Accurate Gold and Precious Metal Testing!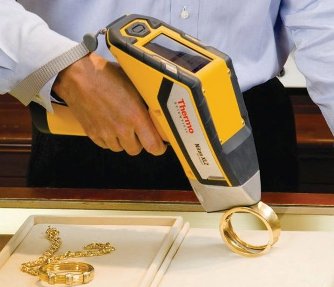 High Tech Jewelry & Bullion Testing
Testing precious metal for its karat or purity is an integral part of buying gold, silver, platinum or palladium. For many years, the only way to test for precious metals was by scratching the jewelry or other precious metal piece on a touch stone and using various acids to try to figure out the purity. This method was inaccurate and could only test for certain purities of metal, due to the acids only coming in bottles strong enough to test 10 karat, 14 karat, 18 karat and 22 karats. There was no way to accurately test for 9 karat, 12 karat, 16 karat, 21 karat and other less common karat gold items. Because of these shortcomings in acid testing, Rancho Gold & Jewelry uses a Niton XL2 XRF X-Ray Spectrometer to accurately test any precious metal. Our X-Ray Spectrometer breaks down the metal content, which is displayed to you on our 32" monitor. Because we know the exact content, we can offer you the highest prices for your treasured jewelry and other items. All with no scratching or any other invasive testing!

The X-Ray Spectrometer is not the only piece of high tech, noninvasive precious metal tester we have. We also have a Sigma Metalytics brand Precious Metal Verifier Pro machine. We can use this machine to test gold, silver and platinum bullion, bars and coins for their purity. This not only works on pure gold, platinum and silver, but also on different percentages of coin silver, different purities of gold coins and bullion. We don't even have to open your bullion if it is sealed, as the machine can test through plastic, even plastic coin grading slabs.
Between these two high tech metal testers and over 45 years combined experience buying precious metals in the Las Vegas Valley, the experts at Rancho Gold & Jewelry are always able to offer you the highest prices for your precious metals, whether it is jewelry, scrap or bullion.
Visit us a 4590 N Rancho Dr. Ste 1, Las Vegas, NV 89130 for your free, no obligation cash offer, or call us today at 702-626-0000